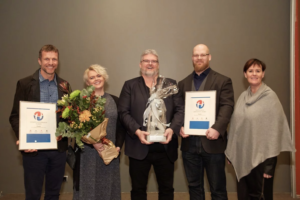 Curio received the Icelandic innovation award for the year 2019.
Elliði Hreinsson, CEO of Curio, received the award from the hands of Mrs. Þórdís Kolbrún Reykfjörð Gylfadóttir, minister of tourism, industry and innovation at the Icelandic Innovation Congress yesterday. Mrs. Gylfadottir mentioned in her speech that Curio received a grant from the European Union's H2020 program in 2018 as well as a grant from the Icelandic Research Fund in 2019 for the development of the company's new computer controlled C-5010 / 4CWhite Collarbone cutter for whitefish.
She said the jury had taken into account that Curio has developed and produced outstanding machinery and that the company obviously focused strongly on further developments and considered this nomination well deserved.