For the third time Curio took part in the Seafood Expo Global in Brussels, 7–9. May.
The Seafood Expo in Brussels is one of the most important meeting-places in the seafood-industry. The expo is the largest in the world of seafood and seafood processing and Icelandic companies have attended it for years. We met a lot of people at the expo and that is important for the growth of one's social network.
We would like to thank all those who came to our stand, as we introduced our XS version C-2011 filleting machine, as well as introducing the latest machine Curio, the C-5010 / 4CWhite collarbone cutter, to be launched in the year 2020.
It is a very important forum for the presentation and sales-operation of the company.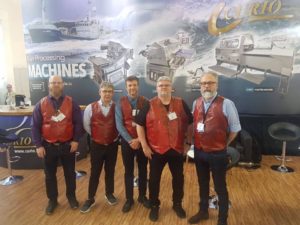 Our Curio team happy after a successful expo.